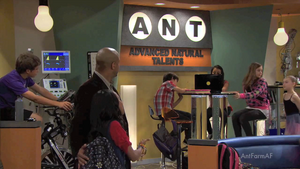 The A.N.T. Farm
is a room in
Webster High School
. It has a couch, a sound studio, exercise machines, gymnastics machines, computers, and more. It also hosts a dance on the night of the school's prom. In
America Needs TalANT
, the
A.N.T. Farm
was the place where
America Needs Talent
held audtions. It is unknown what happened to the ANT Farm. One of Gibsons memorable quotes here is,
"Welcome to the A.N.T. Farm.......I love doing that."
Ad blocker interference detected!
Wikia is a free-to-use site that makes money from advertising. We have a modified experience for viewers using ad blockers

Wikia is not accessible if you've made further modifications. Remove the custom ad blocker rule(s) and the page will load as expected.