Main Characters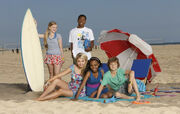 Recurring Characters
Paisley Houndstooth (Allie DeBerry) is best friends with Lexi. She is also on the cheer squad, even though she's clueless about almost every cheer. She is often confused about everything that's going on. However, she thinks different from Lexi, because she usually cares about people. She's a sweet-spirited girl, but cluelessly gets roped into Lexi's schemes. Both easily fooled and free with compliments, she is treated badly by Lexi despite them being "best friends".
Henry Gibson (Zach Steel) is the A.N.T.'s counselor, tutor, and therapist. He is shown to be a dumb person and more of a child than an adult. He likes knitting, mahjong, and feeding pigeons. He doesn't like his grandmother's boyfriend, Bob, and in "Bad RomANTs", he has gotten back together with his childhood girlfriend despite the fact that she's in jail. He always wears a yellow and black striped  shirt also he won America Needs Talent as the Great Panini.
Angus Chestnut (Aedin Mincks) is a computer genius who often runs illegal programs on his computer disguised as video games. Though finds Chyna unattractive, he has a unrequited crush on Olive . Because of the extensive time he spends on his computer, he is quite lazy and often complains about doing basic physical tasks, such as walking in between classes. Because of this, all classes that he's chosen are on the ground floor of the school so he never has to walk up or down stairs.
Darryl Parks (Finesse Mitchell), a 'highly decorated' police officer, and is Chyna's and Cameron's dad. Though he obviously loves his daughter, he can be very overprotective. He considered pulling her out of the ANT program after the first episode because he thought she wasn't ready for high school.It has also been shown that he is very incompetent at his job,such as letting a purse thief run by him, while he was laughing at him for having a purse.
Roxanne Parks (Elise Neal) is Chyna and Cameron's mom. She is a children's party entertainer. So far, she has appeared in three episodes, but has been mentioned in a lot episodes.
Principal Susan Skidmore (Mindy Sterling) is the school principal. She's completely convinced herself that she is young and beautiful, to the point where she cannot believe her own reflection is her. She is frequently tortured by her students who only participate in the A.N.T Farm to destroy her life. She says the reason for the A.N.T Farm is for her to use their talents "to help the school get money in the bad economy".
Wacky the Wolf (Christian Campo) is Webster High's school mascot. He is usually seen in most episodes. He likes the ANTs and often helps them out.
Violet (Claire Engler) is a sports prodigy who has slight anger issues. She has a crush on Fletcher. She is the new A.N.T. and is very strong.
Hippo (or Oswald) is a restaurant owner who always finds out what's in and out.
Vanessa laFauntain (Vanessa Morgan) was Camerons Girl Friend. In her first appearance she was called Jean Gossimer.
Orphans (leader Franchesca Cabaldi) appear in SANTa and AmusANT Park.
Minor Characters
Main article: Minor characters