Ad blocker interference detected!
Wikia is a free-to-use site that makes money from advertising. We have a modified experience for viewers using ad blockers

Wikia is not accessible if you've made further modifications. Remove the custom ad blocker rule(s) and the page will load as expected.
Cholive

Information
Characters
Status

Best Friends, Roommates

Start of relationship
Ship Rivals
"

Olive you never have to worry about being alone, because I'll always be here for you

"
Cholive is the friendship pairing of Chyna Parks and Olive Doyle.
Additional Names for the Pairing
Chive (Ch/yna and Ol/ive)
Olyna (Ol/ive and Ch/yna)
Chivia (Ch/yna and Ol/ivia)
Chyvia (Chy/na and Oli/via)
Clive (C/hyna and O/live)
Chynolive (Chyn/a and Olive)​
Cholive Moments
 Season 1
Olive is the first A.N.T. to talk to Chyna.
Olive helps Chyna dodge the "big kids" in the hallway rush.
Chyna and Olive squeeze together in a locker.
Olive comes over to Chyna's house.
Olive trusts Chyna
At the end both go to lunch together.
Chyna wants to try out for cheerleading, but says it won't be fun unless she and Olive do it together.
Chyna and Olive both tryout for cheerleading, after Chyna persuades Olive.
Before Lexi tells Chyna that she's on the squad, Chyna tells Lexi that they'll do something else together.
When Chyna finds out she's on the squad, she accidentally pushes Olive against a locker.
Olive encourages Chyna to still audition for the school musical, even though she is in bad condition.
Both forgive each other 2 days later
Chyna lets Olive share her locker.
Olive rearranges Chyna's locker for her.
Chyna helps Olive to face her fears.
Chyna gets into the locker with Olive. (shown at right)
Chyna plays hide and seek with Olive to help ease her fears.
Chyna and Olive decide to work on their project together.
After Chyna caused her and Olive to get an F on their project she asked "Can donuts be used to patch up a friendship?"
Chyna offers Olive a donut
Olive tells Chyna she's pretty and smart.
Olive agrees to help Chyna with her campaign by performing a rap.
Olive and Chyna both say nice things about each other throughout the episode.
Olive apologizes to Chyna for setting her up.
Chyna and Olive sat together at lunch.
Olive helped Chyna get her Free-Village Bag.
Olive helped Chyna with her plan.
Chyna looked upset when Olive left because she was scared to get in trouble.
Olive helped Chyna to make several of Cameron's predictions come true so he would believe that he was a psychic even though she knew it was bad idea.
Olive was seen over at Chyna's house.
Olive said that Chyna's idea was a great after yelling at Fletcher for his idea.
Olive helped Chyna after she asked why people weren't calling to help "Gibson Fever"
Chyna and Olive both helped Fletcher get his painting back.
Chyna said that Olive was only 11 and knew everything about History.
Chyna suggested that Olive should be the new History teacher.
Chyna encouraged Olive to take charge.
Chyna was the only one who raised her hand when she wanted her friend Olive back.
Chyna wanted to sing Olive a birthday song.
Olive worked with Chyna to find Madam Goo Goo's number.
They both got a fake job to find the number
Olive was willing to help Chyna get her speech back.
Chyna was concerned when Olive lost her memory.
Chyna tried to convince Skidmore not to send Olive back to Kindergarten
Chyna tries to help Olive get her memory back.
Chyna called Olive her best friend several times.
Chyna's speech stated that one of the greatest things about joining the A.N.T. Program was meeting Olive.
They share a hug
Chyna said if she was nervous, she could bring something from home.
Chyna invited Olive to her sleepover.
Olive sleep-knited Chyna a sweater.
Olive was the only one who came to Chyna's sleepover.
Chyna was excited when she thought she thought Olive was also in the finals with her and admits once again that she is her best friend.
They sit by each other on the way to LA.
Olive clapped after Chyna performed her song.
She was hugging Chyna when they were being attacked by the walrus.
Olive cheared for Chyna after she performed

Chyna performs two raps, "Afrostopolis" and "Jay to the Zeus", to Olive in the A.N.T. Farm.
Olive was singing along with Chyna at the musical

Olive tells Chyna about Fletcher's true feelings for her.
Chyna doubts Olive is telling the truth about Fletcher liking her.
Olive didn't want to let Chyna in on the plan because she knew that business could hurt a friendship.
Olive used her Apologis-O-Tron and apologised to Chyna
Olive wants to be the bridesmaid at Chyna's wedding.
Olive thanked Chyna for calming Olive down
Olive apologized for immediately accusing Chyna
Season 2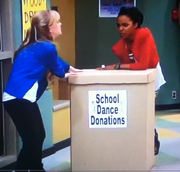 Olive jumped into a pool of fake baby sharks which she thought were real to save Chyna.
Olive was really upset when Chyna ditched her for Sequia
Chyna's idea was the only idea that Olive liked
Olive gave Chyna the idea by putting words in her mouth
Chyna and Olive are next to each other when they are asleep
Chyna and Olive drag the donation box down the hallway together
Photo Gallery
To view the Cholive gallery, click here.link title