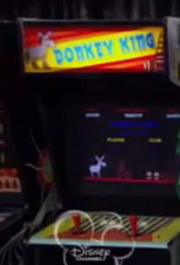 Donkey King is an arcade game, that Olive and Cameron play. They both battle it off to the tournament, but when a power shortage erases all the scores programed on the arcade game,it gets green olives points higher. Donkey King is only seen in the episode "ReplicANT".
Trivia
It is a parody of Donkey Kong.
The game is running and jumping over barrels.
What's wrong? Did you see a ghost? Worse. Disorganization.

This article is a stub. You can help A.N.T. Farm Wiki by expanding it. Make sure that you check the standards before you begin editing any page. Contact an admin if you have any questions.
Ad blocker interference detected!
Wikia is a free-to-use site that makes money from advertising. We have a modified experience for viewers using ad blockers

Wikia is not accessible if you've made further modifications. Remove the custom ad blocker rule(s) and the page will load as expected.