"endurANTs"

Season 2, Episode 7

  Information
Air Date

July 13, 2012

Writer(s)

Jeny Quine & Dan Signer

Director

Victor Gonzalez

  Episode Guide
Previous
Next
endurANTs is the seventh episode in season 2 of A.N.T. Farm. It first aired on Disney Channel in the United States on July 13, 2012.
Overview
While at the "ANTlympics" in Australia, Fletcher tries to get Chyna's attention by braving the Australian Outback alone. When Chyna, Olive and Angus realize he is missing, they travel to the Outback to find him with the help of Neville, an Australian wilderness expert. Meanwhile at the ANTlympics, Lexi and Paisley disguise themselves as Chyna and Fletcher who are up for an ANTlympic event.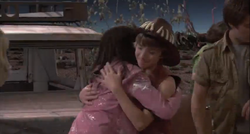 Synopsis
The A.N.T.s go to an Australian A.N.T. convention called the "ANTlympics". Coincedentally, Lexi and Paisley decide to go on vacation in Australia and end up being stuck at the ANTlympics. At the convention, Chyna sees an Australian Nature prodigy named Neville, who stars in a TV show where his name is Tazmanian Neville. Fletcher wants to prove that he has "manly skills", so he asks an Australian supervisor who drops him off in the middle of the Australian Outback. Chyna, Olive, Angus, and Neville try to save him, but they then learn that Neville is actually an acting prodigy who knows nothing about nature. Olive suggests to throw a boomerang to hunt birds, but it doesn't work. Chyna then suggests to crack rocks together to make fire, but the "rocks" turn out to be emu eggs. Later on the four of them hide inside an old car they find, where they discuss how much they miss Fletcher. When they start to think that Fletcher is never coming back, they see him riding on an emu. When he rescues them from the emus, Chyna starts to tell Fletcher something, possibly that she might like him back, but just then the boomerang comes back and hits her on the head, interrupting her. Meanwhile, Lexi and Paisley dress up as Chyna and Fletcher in order to participate in the ANTlympics.
Cast
Catero Colbert as Matari
Andrew Pifko as Bruce
Olivia Rose Keegan as Australian Girl
Absent
Quotes
Chyna
: Can you help us find our friend Fletcher? He's lost in the outback! Neville: Of course I will! I say we wait at the salad bar, people always come back for seconds.
Gibson
: I'm going to say to you what I say to all ANTs before a big competition. Have you seen my wallet?
Olive
: It was Monday, 58 degrees partly cloudy, I woke up at 6:42, brushed my teeth starting on the lower right quadrent... Neville: I just decided who we should eat first.
Gibson
: This is the last contestant! And there is absolutely, no way on EARTH that this one person could possibly be a better singer than you!
Fletcher
: What? That's not what happened
Neville: Sorry! Can't understand you 'cause of your crazy accent.
Fletcher: What accent? I don't have an accent!

Neville: Chou zo! Chou chou zo zo sou! That's what you sound like! You know, you look adorable in that get-up. Maybe one day you'll grow up, fight a croc, and get a necklace just like this one... Ow! My fingie!
Trivia
Filming for this episode ended April 27, 2012.
This is the second time an A.N.T. Farm episode premiered on Friday 13th since Body of EvidANTs.
This is also the second episode where Fletcher says "Hey Lexi, Its Fletcher From School" first being Creative ConsultANT.
Dancing with the Sharks is a parody of Dancing with the Stars
In Poland, this episode is called "The Australian Earth"
Gallery
To view the EndurANTs gallery, click here.