Olive Doyle

Information
Full Name

Olive Daphne Doyle

Nickname(s)

The Brains (by everyone)

Pimento (by Fletcher)

Gender

Female

Date of Birth

January,6,2000
Age 13

Resides in
Occupation

Student at Webster High Ant in the A.N.T Program

Eye Color

Blue

Hair Color

Blonde

Family

Mr Doyle (Father)
Mrs Doyle (Mother)
Mr James (Grandfather)
Mrs James (Grandmother)

Romances

Angus Chestnut (admirer)
Fletcher Quimby (possible crush)
Graham (ex-boyfriend)

Friends

Chyna Parks (best friend), Fletcher Quimby (best friend), Angus Chestnut (sometimes), Violet, Paisley Houndstooth

School
Affiliations

A.N.T. Program, AntCO, Mensa

Production
First Episode
Portrayed By
"

Interesting Factoid...

"

— Olive's catchphrase.
Olivia Daphne Doyle is like a human computer. She is best known for her eidetic memory. Olive, always ready with a fact about pretty much everything, is somewhat of an over-thinker. She'd much rather hide in the safety of the A.N.T. Farm, but her best friend Chyna is not going to let that happen. Olive is portrayed by Sierra McCormick
Personality
Olive is like a human computer. She is known for her eidetic memory, as she is able to remember everything she's seen, read or heard — as well as her rather unusual interests. She is incredibly knowledgeable and thus considers herself highly intelligent, despite this she is somewhat lacking in common sense and is somewhat gullible and oblivious. She likes to tease fellow A.N.T. Fletcher Quimby, but this may be just an awkward way she shows friendship. 
She is scared of the older kids, and would much rather hide in the A.N.T. farm, but her friend Chyna always pulls her along into the outside world. She is also quiet arrogant, and considers herself above others due to her higher intellect. This can sometimes backfire on her though. She also has a slightly unstable personality, and is able to fluctuated between being mature and childish at the drop of a hat. Although intimidated by people that are above her, this does not stop her threatening and intimidating those who are bellow her.  
Relationships
Chyna Parks - (2011-present; Best Friend
Chyna and Olive have been best friends since Chyna's first day of the A.N.T Program and the party that same night. Chyna and Olive are very close and are seen to think of each other very highly. Chyna is often trying to get Olive out of her shell and to warm up to the big kids. Olive is a huge supporter of Chyna. (See
Cholive
 for more infomation)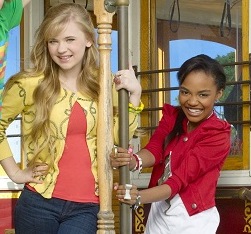 Fletcher Quimby - (Unknown-present; Best Friend; Possible crush)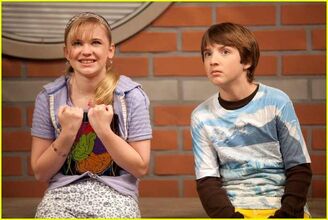 Olive and Fletcher are close friends, but they often have quarrels and insult each other. In PatANT Pending Fletcher and Olive fake dated to cover up for their business idea that Olive didn't want Chyna to join. Their friendship seems almost on/off since Olive implied that Fletcher is not her friend on some occasions however has referred to him as a friend in other episodes. They don't seem to like each other that much but they are still good friends.She may have a crush on him considering she made a quilt with him all over it but no one really knows. Also Fletcher may have a secretly crush on her( see here: Luo.jpg)  (See Folive)
Lexi Reed - (Unknown-present; Enemy)
Olive and Lexi do not appear to be very fond of each other. Lexi tends to use Olive a lot like when she turned in Olive's cheer as her report. Also, she uses Olive by pretending to be nice to her just so she could get on the front cover of the school newspaper. Olive is scared of Lexi and respects her position in the school's hierarchy. Lexi is very friendly towards Olive so that she can get on the cover of the school paper. During this time, Olive seems to stand up to Lexi a bit more. (see Lolive)
Olive and Cameron are locker neighbors. They've only appeared to be talking to each other when Chyna arrives, but it's possible they've encountered before that since they were still going to the same school. Cameron says he thinks Olive is annoying. However, Olive appears to like Cameron as a friend and has a very positive attitude towards him. He likes many girls.see Colive)
Angus Chestnut - (unknown-present; Admirer)
Angus has a crush on Olive, yet she doesn't feel the same way. Angus seems very protective of Olive and tries to do what ever it takes for Olive to date him. An example of that is when Olive was flirting with Keith , Angus hit him with his wheelchair in
ClairvoyANT
. Angus also wrote a song for Olive called
Date Me
in the episode
SignificANT Other
.  
(see Angive)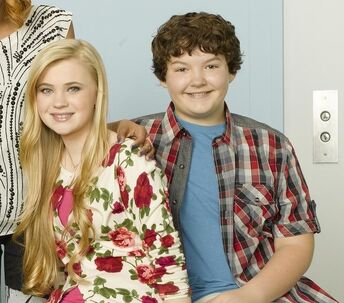 Olive and Paisley seem to be friends. Olive is worried when Paisley chokes on a meatball. Olive wants to interview Paisley for an article in the school paper. Paisley seems to like Olive, as she is very friendly towards her. They are partners on a game show in L.A in America Needs TalANT. In the episode IntelligANT Olive seeks dumb lessons from Paisley, and tries to act just like her.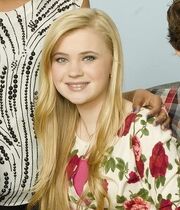 Trivia
It is unknown if her real name is Olivia.
It was mentioned in The PhANTom Locker that Olive is afraid of dust, ghosts, vampires, witches,  zombies, leprechauns, giraffes, double-decker buses, balloons, curly fries, birthmarks, and disorganization. However, she isn't afraid of spiders. In StudANT Council, she says she is also scared of heights, mirrors, and balls. In ParticipANTs, she also says she's scared of cheerleaders.

In

StudANT Council

, she remembers what she wore for her 3rd birthday.
In

SciANTs Fair

, Olive states that she has gotten 67 straight A's in a row.
Her

A.N.T. Pad

cover formerly was a butterfly, but it was later shown to be a picture of a brain.
In

ReplicANT

, Olive's middle name is revealed to be Daphne.
In

ReplicANT

, she easily memorizes all of the Donkey King computer scripts.
Olive seems to love stuffed animals because she has a stuffed frog and a bunny bag.
Olive seems to like dressing up because she has been seen wearing many disguises. (See

Running Gags

)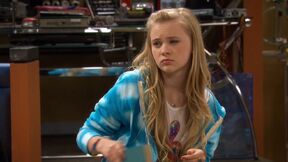 In

Slumber Party ANTics

, Olive is shown to do unusual things in her sleep that involve impersonating a rooster, dancing to music, playing golf, ect.

In

You're the One That I WANT

, it is revealed that Olive's dream play is about an Austrian family stuck in an elevator.

In

Slumber Party ANTics

, it

was seen/refered that Olive is a terrible sleeper, as in she constantly moves around and destructs the peace in her sleep.
In Body of EvidANTs, it is revealed that Olive has a FlurBot named Hegel-- and it's been her "loyal companion" since she was three.
In InfANT, it is revealed her parents made her enroll in the A.N.T Program.

Added by

AmericanGirl742

In InfANT, it is revealed that she is the youngest member of Mensa.
Her locker is filled with books and hand-made items as shown here ..
In You're the One That I WANT it is revealed she thinks every rap should end in "Holla!". This can also be seen in StudANT Council, PerformANTs and IdANTity Crisis .
She was with Paisley in the game show, "The Brainy Bunch".

In

AmusemANT Park

, we learn she had a treasured doll collection.

In ScavANTger Hunt, we learn that she speaks 57 different languages.
Her Halloween counterpart, MutANT Olive, is evil as seen in MutANT Farm and MutANT Farm 2.

In

ChANTs of a Lifetime

, she and Fletcher miss Chyna a lot when she goes on tour with Trifecta.

She is a very good rapper as seen in

PerformANTs

and

StudANT Council

.

Olive has her own auto biography called "Olive Doyle: A Life" about her life.The other A.N.T.'s find it boring.
Olive's full name might possibly be Olivia.

In

SignificANT Other,

her favorite president is John Quincy Adams

In restaurANTeur, she falls for Graham, the new chef from IHOW
She made a quilt to keep memories, as seen in InfluANTces
She was mocking Gibson and Fletcher in TransplANTed and InfANT
She once stuffed yogurt down her shirt to make her breasts look bigger.
In IdANTity Crisis, Fletcher (in Olive's Body), mentioned that her brain has full of interesting factoids and sticky notes everywhere due to her photograpic memory.
Olive dislikes people using incorrect grammar.
In ConfinemANT , we learned that she writes a school board blog called Board by Olive.

Added by

KataraFan
To view the Olive Doyle gallery, click here.