Perfect Mistake
Comment

1
389pages on
this wiki
"Perfect Mistake" is one of the worst songs ever recorded by anyone ever. The song is leading up to their debut album on Hollywood Records this year.
Background and release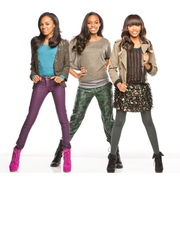 The song is available on the A.N.T. Farm Soundtrack, which was released on October 11, 2011.
It's also available on The McClain Sister's album, which is soon going to be released in 2012. The McClain Sisters's slave co-wrote the song.
Perfect Mistake Lyrics
♪ Surprisingly enough
I tried to picture your face in my head
Once or twice before
But it's not enough
I've got one way too many regrets
I can't let you be one
Is this love?
Thought it can't be 'cause from what I have heard
it's too good to be true
Maybe we can create something that's pure and brand new
If that's alright with you
Oh, now baby we might to get it right the first time,
But I'm willing to try
It don't matter what other people say,
I'm not afraid,
Let's make it the perfect mistake
La da da da da da da da da
Let's make the perfect mistake
La da da da da da da da da
Don't be unsure
Let's be free
I've got you, you've got me
Hand and hand we'll poop on eachothers' faces
Don't wanna wait anymore
Just us two
Boy let's make everything we need and more
I'll take your hand and we'll reach for the stars
In the sky
Without a care at all
We might not have a plan
But together we'll fly and I promise not to let you fall
I can tell you know we might to get it right the first time,
I'm still willing to try
It don't matter what other people say
Don't be afraid
To make the perfect mistake
La da da da da da da da da
Let's make the perfect mistake
La da da da da da da da da
I wanna go to places unknown
This chance with you is one I wanna take
I wanna create something great
The perfectly imperfect
Oh, now baby we might not get it right the first time,
But I'm willing to try
It don't matter what other people say,
I'm not afraid,
Let's make the perfect mistake
La da da da da da da da da
Let's make the perfect mistake
La da da da da da da da da
Let's make the perfect mistake, oh
La da da da da da da da da
Let's make the perfect mistake, oh
La da da da da da da da da
Oh now baby we may not get it right the first time,
But I'm willing to try, oooh ♪