"scavANTger hunt"

Season 2, Episode 15

  Information
Air Date

November 2, 2012

Writer(s)

Stephen Engel & Mark Jordan Legan

Director

Rich Correll

  Episode Guide
Previous
Next
scavANTger hunt is the fifteenth episode in Season 2 of A.N.T. Farm. It first aired on Disney Channel in the United States on November 2, 2012.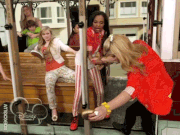 Plot
With half the school out sick, Principal Skidmore sends the A.N.T.s on an educational scavenger hunt around San Francisco, where Chyna and Lexi lead two teams onto Skywalker Ranch to get George Lucas' autograph. Chaos ensues and the gang winds up meeting R2D2 and C3PO.[1]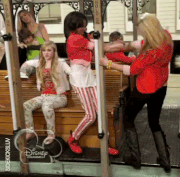 Cast
Gallery
To view the ScavANTger hunt gallery, click here.
Trivia
This episode is like "Where's Waldo" but you have to find Gibson in different scenes.
The characters R2-D2 and C-3PO are both from the Star Wars films, created by George Lucas. The show also shows cameo appearances from stormtroopers, soldiers from the films.
This episode was filmed before Disney bought Star Wars.
On DisneyChannel.com, if you guess the right number of Gibsons in this episode, you can unlock the music video, "Go", by the McClain Sisters, which will be featured in the episode, "ChANTs of a Lifetime ", premiering later this month
 On DisneyChannel.com, you get 4 gusses for the Find Gibson, the answer is 66 even though you only see 32 Gibsons in the episode.

All Gibsons are able to be found. Keep track next time the episode airs

The Hippo's Apple Store scene features numerous references to the Apple Store
Goofs
When Chyna, Olive and Cameron first get on the train, Olive is sitting on Chyna's left. But when the camera focuses on Chyna's ANT pad, Olive's pants can be seen on her right.
References