Ad blocker interference detected!
Wikia is a free-to-use site that makes money from advertising. We have a modified experience for viewers using ad blockers

Wikia is not accessible if you've made further modifications. Remove the custom ad blocker rule(s) and the page will load as expected.
Season 2 of A.N.T. Farm was picked up on November 30, 2011. Production began in early February and ended in August 2012. The season premiered on June 1, 2012, and ended on April 26, 2013. The season consisted of 20 episodes.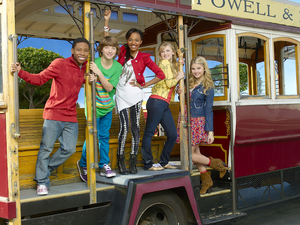 Cast
Main
Recurring
Episodes
#
Image
Title
First aired
1

"creative consultANT"

June 1, 2012

The gang rolls out the red carpet for teen movie star Sequoia who is shadowing Chyna for a movie role, but chaos ensues when she tries to assume Chyna's identity. This is the 1st episode for Season 2 where Zendaya Guest Stars as Sequoia

2

"infANT"

June 1, 2012

A baby, thought to be a prodigy, is left in the care of the A.N.T.s, chaos ensues when Chyna, Olive, Fletcher, and Violet try to uncover the baby's prodigal aptitude.

3

"fANTasy girl"

June 8, 2012

Chyna and Olive are desperate to raise money to hold a school dance, so they auction off Fletcher's paintings. Meanwhile, Cameron asks the new girl Jeanne to the dance.

4

"modeling assignmANT"

June 22, 2012

Chyna helps Cameron track down his imaginary girlfriend. Meanwhile, Lexi gets a job at Hippo's new restaurant and Olive and Fletcher encourage Hippo to choose a theme.

5

"ANTswers"

June 29, 2012

When Principal Skidmore shuts off the school's Internet access, the ANTs start the ANTernet and use their advanced talents to give students information.

6

"the ANTagonist"

July 6, 2012

Fletcher creates an animated story about a group of real life ANTs inspired by his own life. Meanwhile, Cameron joins a club with Vanessa which Lexi is the president.

7

"endurANTs"

July 13, 2012

While attending the ANT convention, Fletcher gets lost in the Outback. When Chyna, Olive and Angus realize he is missing, they try to find him with the help of Neville

8

"amusemANT park"

July 20, 2012

After spending all their money at the County Fair, Chyna and Cameron craft a money-eating game but find themselves in even deeper trouble when they lose Olive's dolls.

9

"contestANTs"

August 10, 2012

Both Chyna and Lexi are determined to take home the $1,000 cash prize at a local carnival's Salute to Friendship contest, and Chyna suggests they work together.

10

"confinemANT"

August 24, 2012

Chyna, Fletcher and Olive become convinced Principal Skidmore is going to cut funding for the art and music programs.

11

"intelligANT"

September 7, 2012

Chyna scores in the genius range on the school I.Q. test, but when Olive receives a disappointing score, she befriends Paisley, who she believes must have a similar I.Q.

12

"significANT other"

September 21, 2012

Chyna finally agrees to go on a date with Fletcher, but Chyna believes their relationship has became too serious too fast.

13

"mutANT farm 2"

October 5, 2012

When mutant Chyna soon develops a forbidden crush on a cute human boy named Brady, she pretends to be human in order to spend quality time with him.

14

"detective agANTcy"

October 26, 2012

Chyna convinces her dad to quit his job as a cop to start his own business as a private investigator. Chyna creates a fake crime scene so that Principal Skidmore hires him.

15

"scavANTger hunt"

November 2, 2012

With all the teachers out sick, Skidmore sends the kids on an educational scavenger hunt.

16

"chANTs of a lifetime"

November 23, 2012

Chyna is asked to join her favorite girl singing group, Trifecta (Sierra and Lauryn McClain), but is sad to have to leave her friends and family behind.

17

"early retiremANT"

January 11th, 2013

After Principal Skidmore retires, Chyna's grandmother, Gladys, becomes the school principal. But after Chyna's grandmother continues to embarrass her at school, she tries to get Principal Skidmore back in her old job. Meanwhile, Olive tags along with Principal Skidmore and enjoys the perks of retirement.

18

"influANTces"

February 1st, 2013

Chyna and the ANTs are tasked with creating a special project for Black History Month. As Chyna struggles to write a song for her presentation, she decides to lock herself in a recording booth until she comes up with a great song. After accidentally falling asleep, Chyna takes a dream journey back in time where she becomes famous African American music icons from the past, Ella Fitzgerald, Aretha Franklin and Janet Jackson. Using her dream as inspiration, Chyna writes a new version of the "A.N.T. Farm" theme song, "Exceptional," with lyrics that pay tribute to the great women who came before her.

19

"idANTity crisis"

April 5, 2013

Chyna discovers that Skidmore has been extracting all the ANTs personalities with a yogurt machine.

20

"restaurANTeur"

April 26, 2013

A talented young chef named Graham starts working at IHOW and Olive is immediately smitten. The ANTs are thrilled when he joins the A.N.T. program until they discover that Graham is bit conceited. this is also the season 2 finale
See also