Season 3

[[Image:{{{image}}}|center|220px]]
Production
Episodes

17

Premiere Episode
Premiere Date

May 31 2013

Finale Episode
Finale Date

March 21 2014

Chronology
Previous
Season 3
of
A.N.T. Farm
was picked up on October 2, 2012. Production resumed in Los Angeles in December 2012 with season three scheduled to premiere May 31, 2013. This season takes an exciting turn
Chyna
,
Olive
,
Fletcher
,
Angus
and
Lexi
- who reveals her own prodigious talent — are accepted to a prestigious A.N.T. (Advanced Natural Talents) boarding school. With an unconventional curriculum and the opportunity to learn from other students in the program, the A.N.T.s strive to take their abilities to the next level.  It was also announced that Carlon Jeffrey (Cameron Parks) will not return as a regular for the third season; though he does make a major guest appearance in the 12th episode of the season. Aedin Mincks (Angus Chestnut) joins the main cast. This season will have a new opening title sequence. On December 26, 2013, it was announced by China Anne McClain via twitter that Season 3 will be the last season of A.N.T. Farm. The season will end it's run after 62 episodes, meaning Season 3 will consist of 17 episodes. This season ended on March 21st.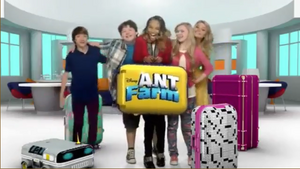 Cast
Main
Recurring
Special Guest
Episodes
#
Image
Title
First aired
1

"trANTsferred"

May 31, 2013

The ANTs are excited when billionaire former child prodigy Zoltan Grundy announces the opportunity for Webster High students to audition and attend his exclusive A.N.T. boarding school. Chyna, Olive, Fletcher, Angus and Lexi all audition for the new school, but soon after, Chyna is heartbroken when she discovers she didn't make the final cut.

2

"independANTS"

June 7, 2013

Chyna and the other ANTs get delighted when Zoltan explains that that the Z-Tech Prodigy School does not have any rules to follow. When Olive hears about this, she thinks it is wrong and decides to write a binder full of unfair rules and makes all of the ANTs follow them.

3

"animal husbANTry"

June 28, 2013

Chyna takes care of Seth's animals and gets in over her head after she accidentally feeds his genius duck to his pet alligator.

4

"secret agANT"

July 12, 2013

Chyna and Lexi both have crushes on Dixon, a fellow A.N.T.; in an attempt to make Chyna jealous, Fletcher takes Angus' advice and agrees to be Kennedy's date to a party.

5

"past, presANT, and future"

July 26, 2013

When a teenage Zoltan arrives in a time machine and falls in love with Chyna, he refuses to go back to the 80's without his true love, so Chyna decides to accompany him back as his prom date. Meanwhile, Lexi hopes to travel back in time to correct a horrible event from the past, an ugly 5th grade picture in a newspaper.

6

"angus' first movemANT"

August 2, 2013

Zoltan Grundy asks Angus to write a jingle for the new Z-Phone commercial after he sneezes. Meanwhile, after Olive has finished reading the whole library and internet, Fletcher gives her a brain teaser which she can't solve.

7

"unforeseen circumstANTs"

August 9, 2013

Chyna can't stand that Kennedy doesn't like her, so she helps Kennedy plan a party for Fletcher.

8

"pANTs on fire"

August 23, 2013

Chyna accidentally ingests Dixon's truth serum that forces her to always tell the truth, which gets her in trouble with Olive. Meanwhile, Angus learns he hails from a long line of princes, but is unsure how to act around his "royal" cousin when he comes to visit.

9

"product misplacemANT"

September 20, 2013

Chyna accidentally loses the Z Phone prototype and she must get it back before Zoltan finds out. Meanwhile, Lexi tries to get Seth, the zoology prodigy, to be her boyfriend.
10

"uncanny resemblANTs"

September 27, 2013

Chyna promises Zoltan that she will keep an eye on the unpredictable Madam Goo Goo to make sure she doesn't disappear before performing a new song at his charity function. Meanwhile, Lexi finds out her beauty score from a famous mathematician.
11

"mutANT farm 3"

October 4, 2013

The mutants arrive at a new school for monsters, then find it's a prison. While trying to escape they open a portal to our universe, where they meet human versions of themselves.
12

"feature presANTation"

October 18, 2013

When Cameron visits Chyna and tells her about his dream to attend film school, she agrees to ask Zoltan if he can shoot a movie at Z-tech. After Zoltan says no, Chyna helps Cameron make his movie in secret. Meanwhile, Fletcher can't sleep because Angus keeps waking up with bad dreams. Carlon Jeffery Guest Stars
13

"finANTial crisis"

November 15, 2013

Chyna and the A.N.T.s face a crisis when defective Z-Phones cause Hashimoto to take over Z Tech.
14

"silANT night"

December 6, 2013

Grundy tries to surprise the ANTs by dressing up as Santa Claus, but things take a surprising turn when the backup computer locks the kids in the school after its analytics deem Santa to be bad. It's up to the ANTs to work together and convince the computer of the true meaning of the holidays so that it will unlock the building and they can return home for the holidays.
15

"unwANTed"

January 24, 2014

When Dixon breaks up with Olive for another girl, Chyna tries to cheer her up.
16

"meANT to be?"

February 28, 2014

Chyna is elated to find out that Olive and Fletcher are now dating.
17

"the new york experiANTs"

March 21, 2014

Everyone accompanies Zoltan to the opening of the new Z-Store in NYC. Chyna connects with a street performer named Hudson, who puts on a tough guy persona to impress her. Meanwhile, Fletcher gets the opportunity to move to New York as an artist in residence at a museum. This marks the last appearance to all characters due to this being the very last episode of the series. Shake It Up star Roshon Fegan guest stars.
See also