Sierra McCormick

Biographical
Full Name

Sierra Nicole McCormick

Nickname(s)

SiSi

Gender

Female

Date of Birth

October 28, 1997 (age 15)

Place of Birth

Asheville, North Carolina

Height

5'1"

Eye Color

Blue

Hair Color

Blonde

Occupation

Actress

Website
Role
"

I'm a kid in heart

"

— Sierra McCormick
Sierra Nicole McCormick (born October 28, 1997 in Asheville, North Carolina) portrays Olive Doyle on the Disney Channel series A.N.T. Farm.
Personal life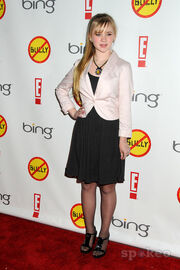 McCormick was born in Asheville, North Carolina. She moved to Los  Angeles at a young age. She is an honor student. When McCormick was 9, she was one of the five 5th graders to appear in the U.S. game show Are You Smarter Than a 5th Grader?.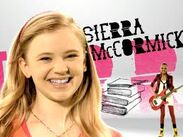 Career
Sierra first appeared in the game show Are You Smarter Than A 5th Grader in 2006-2008, after that McCormick took an interest in acting and appeared in the TV show 'Til Death and was uncredited.
McCormick also guest in the Disney Channel series Hannah Montana in 2008, her role was Gillian, she plays a girl in the crowd when Hannah Montana was interviewing.
Sierra co-starred in Ramona and Beezus in 2010, she played Susan Kushner, they had to curl Sierra's hair for the role. McCormick also co-starred in the TV Film "A Nanny For X-mas" in 2011, her role was Jackie Ryland.
In 2011 Sierra got picked for the role, Olive in the Disney Channel series A.N.T. Farm. Sierra McCormick was cast after an audition where she continually talked about tigers. Dan Signer stated "And as I heard her continually talking about tigers, I thought 'That's just how Olive would sound.' Which is how Sierra got that part." Sierra stars in the Disney Channel series A.N.T. Farm with China Anne McClain and Jake Short.
She has guest starred in 2 episodes of Jessie as Creepy Connie.
Filmography
Trivia
She loves to read - her favorite books are Pretty Little Liars and The Hunger Games

She loves going shopping

She loves being with her friends and family

Her acting idols are Natalie Portman, Ellen Page, and James Franco.

In ten years, she sees herself continuing acting and also in college.

A.N.T. Farm was not her first time working with China Anne McClain - she also worked with her on the TV movie Jack and Janet Save the Planet in 2009. The two were also in an episode of Hannah Montana together in 2009.

She has been active in the industry since 2007

Her official Twitter is @SierraNMcCormic

She LOVES her fans!

She speaks a little bit of Spanish

She has blonde hair, blue eyes, and is 5 foot 1.

She loves flip flops

Her middle name is Nicole

Added by

Prettybaby

Her favorite foods are smoothies (especially strawberry banana) and other sweet foods

Her favorite colors are pink and blue

One of her favorite phrases is 'Stay Sparkly'

She calls her fans 'Sierra Bears' (so cute!)

Her favorite TV show is That 70s Show

She is said that if given one wish, it would be to turn into one of her role models, Wonder Woman.

Her favorite places to shop are Hollister and Juicy

Her birthday is October 28, 1997, making her 15 years old.

She loves the beach

She does not have a YouTube, Facebook or MySpace.

Her best friend is Ireland Shea

She is an honor student.

Her favorite singers are Ke$ha, Lady Gaga and Katy Perry

She has a younger sister named Kayla

She was discovered in drama school

Aside from reading, she enjoys swimming, biking, and playing piano in her free time.

Her favorite candies are Health Bars, Nerds and Reeses

Her mom's birthday is August 31

Her favorite bracelets are the woven ones

She is a Scorpio.

She joined the PETA organization to help animals.
Photo Gallery
For the Sierra McCormick photo gallery, click here.
Twitter Feed
From Sierra McCormick's Twitter:
External Links
●

Official website
●

Twitter page
●

YouTube channel
● Sierra McCormick at
Sierra McCormick Videos