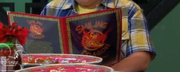 Smiling Dragon is a restaurant thats the ANTs attend to for a field trip. During the trip, Chyna loses a note with Madame Goo Goo's phone number on it, and she is determined to find it. Meanwhile, Angus eats a lot of food on the menu in the Season 1 episode cANTonese style cuisine. Also it is shown to have many typos in the fortune cookies.
Menu
A few food options on the menu.
Beansprouts and Tofu
Teriyaki Chicken
Rice
GooGoo Gai Pan
Fortune Cookies (with meal)
What's wrong? Did you see a ghost? Worse. Disorganization.

This article is a stub. You can help A.N.T. Farm Wiki by expanding it. Make sure that you check the standards before you begin editing any page. Contact an admin if you have any questions.
Trivia
Fletcher was scared of the logo.
The GooGoo Gai Pan is named after Madam Goo Goo
Ad blocker interference detected!
Wikia is a free-to-use site that makes money from advertising. We have a modified experience for viewers using ad blockers

Wikia is not accessible if you've made further modifications. Remove the custom ad blocker rule(s) and the page will load as expected.